Snapshot of the Trencherman's Awards 2023 , Salcombe, Devon.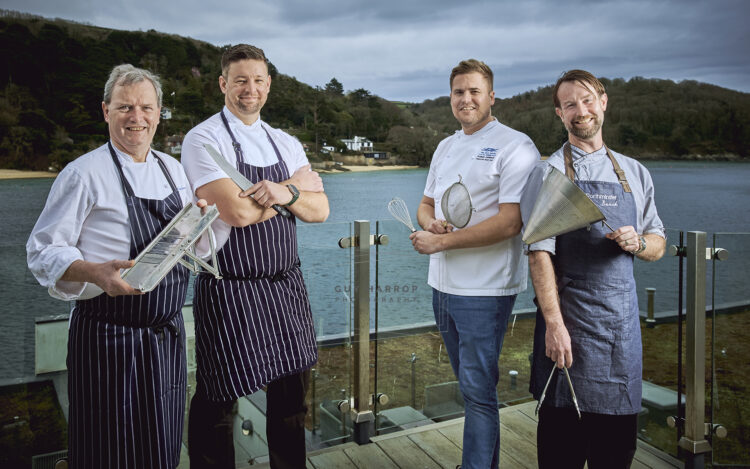 The Salcombe Harbour Hotel was the foodie venue this week to be at, as the region's finest chefs, restaurants, hotels, food suppliers and foodie hot spots gathered to be named winners at the annual Trencherman's awards ceremony and dinner.
Salcombe is a beautiful gem in the South West and the Hotel with it's stunning views over the estuary certainly set the right tone for a great evening of food, drinks and laughter.
The evening was hosted by food critic William Sitwell, chef and restaurateur Mark Hix of The Oyster & Fish House and Trencherman's editor Jo Rees.
First up were a selection of canapés, all washed down with champagne and spirits.  Each course followed, carefully paired with selected wines and beers. The winners were announced between each course culminating in the finale of the evening which saw chef Nathan Outlaw win the Award for Special Contribution.
Host William Sitwell said: 'Very few areas of the country have a guide that rivals Hardens or Michelin in terms of how it's put together – the Trencherman's Guide has really experienced food writers bringing their know-how and knowledge to it – but also for the fact that the South West food scene has the most extraordinary talent.
'The Trencherman's Awards event showcases incredible talent, innovation, a lot of energy, a lot of young people who have come into the hospitality business – and of course a few true stalwarts like my co-host Mark Hix.'
Pictured above are the fabulous chefs who created the courses on the night. Left to right , Mark Dodson of The Masons Arms(starter – citrus cured salmon),  Jamie Gulliford of Salcombe Harbour Hotel (main – Lamb shank and herb crusted loin),  Dorian Janmaat of The Idle Rocks (dessert – rhubarb and custard) and Michael Smith of Porthminster Beach Cafe (fish course – Indonesian style monkfish).
And of course a a very big congratulations to all the deserved winners, chefs on the night and everyone involved in the evening.