Charity portrait photoshoot with ChemoHero founder Lisa Wallis, Devon.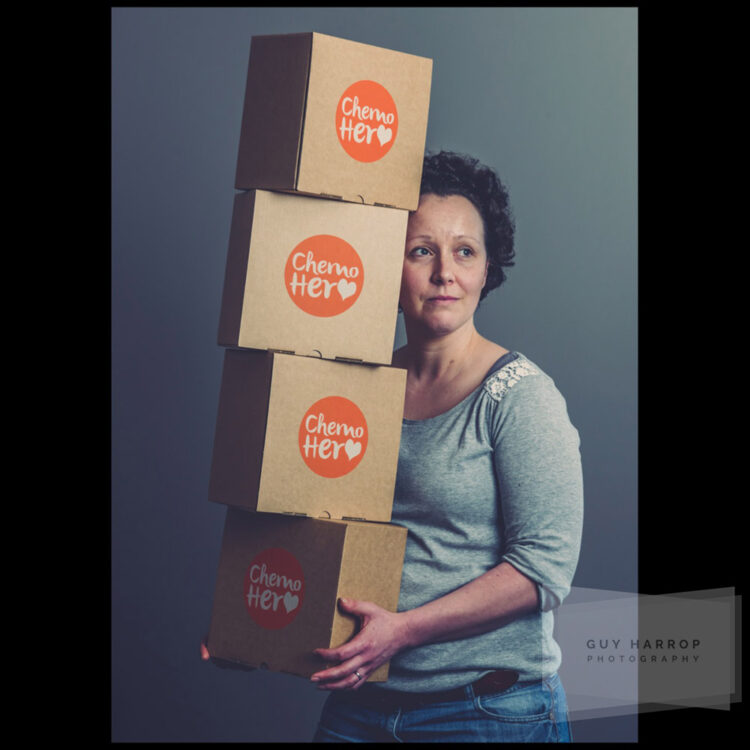 Here is a set of portrait images I took for a charity magazine shoot for The Inspiring People award 2017. The charity NDADA is a Devon based domestic abuse charity and refuge, my brief was to capture the winners of each category.
Pictured is Inspiring Community work winner Lisa Wallis, who created Chemo Hero Boxes of Kindness – which contain useful and luxury items that help a patient through their first chemotherapy treatment. Lisa is an amazing woman, after being diagnosed with invasive breast cancer in 2014, she wanted to make sure everyone going through chemotherapy was not alone and when she was rediagnosed with cancer in 2015 began developing the boxes with businessman Steve Boden.
We met for the shoot and she asked if I had got her message about cancelling, I hadn't. She had just been for treatment and felt unwell.
We chatted and her enthusiasm and passion for the boxes was just so amazing, as she explained and showed me what went into every box. The items in the boxes are mainly donated, they contain things from pill boxes, toothbrushes, diaries to cashmere socks and bottled water. These items are then divided into male and female boxes which she delivers to the new chemotherapy Seamoor Unit at North Devon District Hospital. She agreed to do the shoot which was fun as her bubbly character came out and we took a few photos as we chatted and laughed
I met her again recently when I was working for the NHS in the Seamoor unit at North Devon Hospital, again so inspiring as she was being filmed with her boxes. Yesterday she won a national award, being surprised by Piers Morgan and winning a Good Morning Britain award – the Outstanding Achievement Health Star Award for her charity work. Well done Lisa you definitely deserve it.
ChemoHero is currently looking for businesses to sponsor items in its Boxes of Kindness, here is a link to the charity